This article, Inu-yagura, is property of Inushima.
Inu-yagura
(犬櫓
Dog-Tower
) is the evil older fox demon half-brother of
Inushima
.
He is obsessed with power he is already one of the strongest yokai in the feudal era. HE is considered handsome by most women he meets.
but he says he has no time for relationships. He often try's to take the soun'ga from Inushima. Even though he doesn't need it he has immense power and a powerful sword known as yokaisiega forged from a sacred jewel shard and the soul of 100 dead yokai . HE is feared by nearly everyone in the feudal era he does not seek the sacred jewel shards because he does not need it .
ABILITIES
STRENGH: being a fox demon he has immense strength.
SPEED: being a fox demon he has immense speed.
REGENERATION: He is able regenerate any limb or wound.
Charm: he has a hypnotic charm.
RAZOR SHARP CLAWS: his claws can cut threw almost anything
SENSES: Being a fox demon he has senses above a regular yokai
FLIGHT: he has shown the ability to fly numerous times.
TELEPORTATION.
POWERS
FIRE MANIPULATION: HE HAS shown to be able to create and manipulate fire at will.
Yokai Creation: HE is able to create yokai
IMMense Yokai: HIS YOKAI ENERGY IS GREAT.
TRUE FORM: HIS true form looks like red nine tailed fox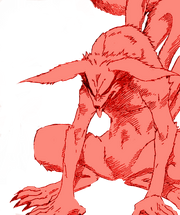 POWERS
IMMENSE SPEED: in this form he his speed is unbeatable
FLIGHT: in this form he is to fly by his tails
ACCID BREATH: HE CAN breathe accid wich melts demon and human flesh.
SONIC ROAR: HE can use massive war which has the force of a tornado.
IMMENSE STRENGTH: he has a huge boost of energy in this form.
TELEPORTATION: HE can teleport in this form
SWORD ATTACKS
DEATH TWISTER: HE CREATES A HUGE BLACK TORNADO
KUROI TAIYO ( BLACK SUN) : the yokaisaiga creates a massive amount of black flames which melts human or demon flesh.